Boughrood Castle and the Fowkes Family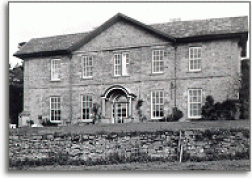 The original Boughrood Castle was built in the 12th century, although there are few signs other than some stones of this building.  The current Boughrood Castle was built in 1817 by Francis Fowke, who had corruptly made an estimated £70-80,000 from bribes, army contracting and opium dealing while in the service of the East India Company in Bengal.  On his return from India, he wanted a castle – maybe to compete with his former colleague, Walter Wilkins (later de Winton) with his grand Maesllwch Castle at Glasbury. His new house therefore was well-supplied with battlements.
Fowke had sixteen illegitimate children, fifteen of them by Mary Lowe, a London actress who became his mistress when she was twenty.  Her few remaining letters reveal that she was a loving mother and had received the education of a lady, despite being abused as a prostitute.
Fowke made a will in 1813 in which he stated that all his thirteen surviving children were born before he married Mary Lowe.  But Fowke's eleventh son, Charles, after his mother's death, started an action in Chancery in which he challenged the will and the executors' division of the estate, and claimed that his parents were married before he was born and that he was therefore the only legitimate male heir, and should pay legacy duty at 1% rather than 10%.  He produced a certificate of marriage from Gretna Green, but it left the Commissioners of Taxes unmoved since it had not been tested in court.
Francis Fowke died in 1819 and the Castle was inherited by his son, also called Francis, born in 1789, who disliked the battlements and re-modelled the building to give it its present appearance.  His father had intended that his children should get equal shares of his fortune after buying an annuity of £500 for his widow, but these provisions were not scrupulously obeyed.  Mrs Fowke and the family lived 'out of the till' for years, and matters were further complicated when the executor, Capt. Francis Fowke died suddenly in 1826, leaving debts amounting to £4,000, and instructing his executors not to sell the estate till the youngest child was 21.
The Castle and the Fowkes lands in Boughrood and Llanstephan were sold to Walter Wilkins (de Winton) of Maesllwch in 1832-3.  The family lands in Cefnllys were sold to Sir John Walsh.  With Government stocks, and other securities, the total estate amounted to £41,520-18-4 (worth about £5m in modern money).
 Charles Fowke's share of the estate was £2,545-13-0, on which a man with a small family might have lived a frugal genteel life.
Before he was 21, however, Charles fathered a child, Charles, on Anne Prosser, of Noyadd Farm, Llanstephan.  He appears to have married her when he came of age, since a further eleven children born to them are not stigmatised in the parish registers.  But Charles was a born failure.
He failed as a farmer at Noyadd and at Cwrt-y-graban, and failed as a land surveyor while living at Village Farm, Boughrood, and at Boatside Cottage, Boughrood Bridge.  After one social triumph, when he married off his second daughter to a naval officer who was the son of an admiral, he went rapidly downhill.
His eldest son had gone to Tenby, where he became a common sailor.  The second son, Robert, aged 14, became a farm servant at Boughrood Court, which the Fowkes had once owned.  The fourth daughter, aged 12, became a servant – the only servant – at the lonely mountain farm, Blaenau, above Talgarth.
The eldest daughter, Ann, suffered the humiliation of living at Boughrood Castle – as a housemaid.  But the ultimate in humiliation was kept by fate for Charles himself.  In 1861, 'C.F. former gentleman, born in St George's, Hanover Square' was an inmate of Hay Union Workhouse.
But Charles managed to bounce back from this and in 1866, he, his daughter Matilda, his carpenter son Edward, and Edward's wife and children, emigrated to the little outback town of Braidwood, New South Wales, where Charles' sister Elizabeth Bell was living.  They could hardly have been welcome.  Elizabeth, now a widow with a large family, was having a hard time and pining for Wales, not for her ne'er-do-well brother.
Elizabeth's husband was Thomas Bell, surgeon R.N., of Enniskillen, County Fermanagh, Anglo-Irish protestant gentry to the backbone.  He had taken part in Parry's third expedition to the Arctic, and served in the East Indies and in home waters, and was superintendent-surgeon on convict ships.
 The Bells' first child, Julia, had been born at Boughrood Castle.  Her fate, and that of her three daughters, was to die of tuberculosis in Australia.
Bell bought land and also 'squatted', near Braidwood.  He was sheep farmer, doctor, magistrate and Crown Commissioner for Lands, but in spite of hard work he did not become rich, even though gold was found on his land.  Elizabeth's first and roughest experience of Australian life involved arson.  Three convicts burned down her second house, with her English furniture, the night before she and her family were to occupy it.
At Braidwood, Charles Fowke practised for a time as a land surveyor, then went to live out his life with a daughter married to a grazier.  His carpenter son, Edward, after some experience of the life of a bush farmer, lost his wife, remarried and went to Sydney and raised a second family (Elizabeth Jane).  His daughter by his first wife was the grandmother of Dr. Terence A. Bunn, a medical practitioner in New South Wales.  Like Mrs Talbot and Mrs Corlette, he has a special interest in Radnorshire.
Elizabeth's twin sister, Eliza, had a shorter life and a terrible end.  After living for a time at Boughrood, she and her husband, George Games, moved to Llan-pwll-llyn, the house now known as the Old Rectory near Boughrood Bridge.  In 1849, Eliza and her husband went down with typhus.  Both were dead in three weeks.
Their children, Georgiana Sarah, Eliza Isabella, and Anna Maria were brought up in Brecon, first by John Games, a builder, their father's brother, and then by their second cousin, William Games, a solicitor who was three times Mayor of Brecon.  Georgiana married her second cousin, George Games, a solicitor, of Hay.
Perhaps the strangest of the Fowke daughters was Mary.  Her first husband, an unsuccessful Worthing attorney, gave her three children and then died, leaving her penniless.  Boughrood Castle became her home, and her children were brought up there, and two died there.  At the age of 34, Mary married a 21-year-old adventurer, David Williams, son of the Rector of Llyswen.
The wedding over, this unscrupulous fortune-hunter, the second in Mary's life, entered St. John College, Cambridge, as an undergraduate and was eventually ordained.  He and Mary lived at Cwmdu, Crickhowell, until he succeeded his father as Rector of Llyswen. 
Another of Francis's sons, Edward Fowke, was at first a tenant farmer at the Lodge, Talgarth (now farmed by Mr. Robert Meredith), and also agent for the Ashburnham Estates in Breconshire. 
He moved to Glanhenwy, Cusop, Hay, as agent to the Maaesllwch Estate, and then to Penmyarth as agent for the Glanusk Estate. He married a widow, Mrs. Elizabeth Forrester, one of the Prossers of Tredustan and Porthamel. They had five children, the youngest of whom, Francis, joined the Bombay Civil Service and died there, aged 20 – his memorial is in St. Gwendoline's Churchyard, Talgarth.
The castle changed hands many times in the twentieth century, and in the 1970s was run as a writers' retreat by Michael Howard, the son of the co-founder of the publishing house Jonathan Cape.
Many of the facts in this piece came from an article in the Express of 10th May 1973 preserved by Eileen Pugh.  The article was written by Eileen and Harry Green, authors of a booklet on the Fowkes family available from the Radnorshire Museum.